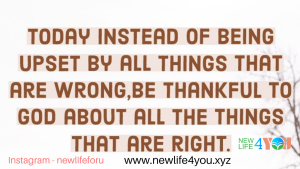 Your words have power of life (sustenance) and death (destruction & ruin)! Speak life over yourself & circumstances!
Whatever you are facing God says His grace is sufficient for you! He will give you what you need for where you are!
God has you in the palm of His hand! He is always holding you!
It's God's heart to see you enjoying every single blessing, all benefits, favor and fullness from Him!  He is a good Father with good gifts for you!
You will never get to the solution if you are always focusing on the problem!
When you are facing a difficult time, know that the challenges before you are not sent to destroy you.  But to promote, strengthen, increase and raise you to the next level!
God Bless You Abundantly 
Website- www.newlife4you.xyz
Facebook- https://m.facebook.com/NEWLIFEINCHRIST2k17/
Instagram- https://www.instagram.com/newlifeforu/
Pinterest- https://www.pinterest.com/NEWLIFEforu
YouTube- http://www.youtube.com/c/NEWLIFEFORYOU/
Telegram Free Library- https://t.me/NEWLIFE4_YOU
Tumblr- https://www.tumblr.com/blog/newlife4you
Flicker – https://www.flickr.com/photos/136398221@N07/
Telegram- https://t.me/NEWLIFE4YOUMOTIVATION
https://www.flickr.com/photos/136398221@N07/
MeWe – https://mewe.com/p/newlife4you
Blog- www.giftofGod2017.wordpress.com
Twitter- www.twitter.com/newlife4_you/
If you didnt recieve your news letter via Email and are subscribed too please email newlifef4you@gmail.com or send your email id to New LIFE 4 You messenger.GOD BLESS YOU ABUNDANTLY